Toshiba's IPedge Certified With AT&T IP Flexible Reach SIP Trunking
(March 13, 2012)
IRVINE, CA -- (Marketwire) -- 03/13/12 -- Toshiba America Information Systems Inc., Telecommunication Systems Division (Toshiba) -- www.telecom.toshiba.com, today announced that its IPedge® IP business telephone system has been certified with the AT&T IP Flexible Reach SIP Trunking offering and is now available from Authorized Toshiba Dealers nationwide.
"Toshiba's IPedge with AT&T IP Flexible Reach SIP Trunking allows businesses to converge their voice and data, improving efficiency by maximizing the use of the network capacity," said Mark Carpenter, vice president of technology and product management for Toshiba America Information Systems Inc., Telecommunication Systems Division. "With SIP Trunking, IPedge users can leverage unused bandwidth on the data network, increase network traffic using compression technology to push more voice traffic through the network, and consolidate resources for greater ROI."
About AT&T IP Flexible Reach SIP Trunking
AT&T IP Flexible Reach is an SIP trunking service that delivers integrated access for IP PBX, TDM PBX or Key System environments, providing potential total cost benefits through the consolidation of voice and data -- one provider, single transport, and management options.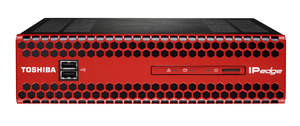 Voice and data traffic riding over the same transport drives greater bandwidth utilization and potential access to cost savings. This managed Voice over IP communication solution includes calling plans that support inbound and outbound calling on the data network, providing local, U.S. long distance and international reach for a business's U.S. sites.
AT&T IP Flexible Reach is supported on AT&T Managed Internet Service (MIS) and AT&T VPN services, giving users options that support their connectivity and bandwidth needs. AT&T supports a wide variety of access speeds, from a single T1 to Gigabit Ethernet. These services take advantage of AT&T's Global MPLS Network, giving users the foundation for seamless voice and data communications.
AT&T IP Flexible Reach supports both local and Virtual Telephone Numbers (VTNs). VTNs enable users to assign a telephone number from virtually anywhere to a phone that is not physically located within the user's local calling area. This allows the user to establish local visibility within that calling area.
AT&T's Centralized Call Delivery allows routing of calls originating from various locations across the country and answering them at the preferred central location. The branch office IP PBX extensions capability delivers telephone numbers for all branch office sites and is supported by a single centralized IP PBX located at the IP Flexible Reach site. Users can use their existing IP data networks to distribute the calls to their branch office sites, which allows them to utilize their IP PBX to support IP phones without additional hardware.
AT&T has a variety of calling plans to fit each business's needs, including local, long distance and international plans.
About Toshiba's IPedge IP Business Telephone System
IPedge accommodates multiple unified communication applications on a single Linux server, including call processing, voicemail and unified messaging, meet-me conferencing with Web collaboration, Call Manager unified communications, native SIP line and SIP trunk support, mobility, survivability, networking with other IPedge and/or Strata® CIX™ systems, centralized administration, and feature-rich telephone endpoints. Plus, add-on applications, uMobility Fixed Mobile Convergence (FMC) and Contact Center solutions, are available with additional servers.
Benefits of the Linux server include survivability within or across the network to support business continuity and a higher level of security. A single IP address provides cost-effective deployment. SIP trunks work natively with the IPedge without requiring additional gateway equipment. With its IP technology and open standards, IPedge is designed for the long term as future endpoint devices and applications are built on standards to help ensure compatibility with the system, thus protecting the user's investment.
Built-in features include:
Toshiba's Call Manager Unified Communications application;
Enterprise Manager browser-based system administration with centralized multi-site management;
Browser-based personal administration for individual users to program their own telephones;
Flexible and feature-rich Unified Messaging;
On-site mobility including Toshiba's wireless IP telephones; and
One hundred percent networking compatibility with Toshiba's Strata CIX IP converged systems.
About Toshiba America Information Systems, Inc. (TAIS)
Headquartered in Irvine, Calif., TAIS is comprised of three business units: Digital Products Division, Imaging Systems Division, and Telecommunication Systems Division. Together, these divisions provide digital products, services and solutions, including industry-leading portable computers; televisions, TV/DVD Combination products, Blu-ray Disc and DVD products, and portable devices; imaging products for the security, medical and manufacturing markets; and IP business telephone systems with unified communications, collaboration and mobility applications. TAIS provides sales, marketing and services for its wide range of products in the United States and Latin America. TAIS is an independent operating company owned by Toshiba America, Inc., a subsidiary of Toshiba Corporation.
About Toshiba
Toshiba is a world leader and innovator in pioneering high technology, a diversified manufacturer and marketer of advanced electronic and electrical products spanning digital consumer products; electronic devices and components; power systems, including nuclear energy; industrial and social infrastructure systems; and home appliances. Toshiba was founded in 1875, and today operates a global network of more than 490 companies, with 203,000 employees worldwide and annual sales surpassing 6.3 trillion yen (US$77 billion). Visit Toshiba's Web site at www.toshiba.co.jp/index.htm.
© 2012 Toshiba America Information Systems Inc. All rights reserved. All product, service and company names are trademarks, registered trademarks or service marks of their respective owners. Information including, without limitation, product prices, specifications, availability, content of services, and contact information is subject to change without notice.
Image Available: http://www2.marketwire.com/mw/frame_mw?attachid=1916591

Add to Digg Bookmark with del.icio.us Add to Newsvine
Toshiba PR Contact:
Teri Sawyer
T&Co.
714-536-8407
Email Contact


Copyright @ Marketwire
Page: 1
Related Keywords:
Toshiba phone systems, unified communications, IP business phone systems, IPedge, AT&T SIP Trunking, Manufacturing, Office Equipment, Sales, Applications, Manufacturing/Production, Phones, Phone Systems, Marketing, Manufacturing, Sales & Marketing, Security, Networking, Internet, Business Issues, Hardware, Administration, Standards, Connectivity, Administration, Server Hardware, Wireless, Ethernet, Server Computers, Security, Administration, Internet Server Applications, Web Servers, Management, Sales, Sales, Internet/Web, Prosumer/Consumer, Business, Internet, Web, Blu-ray/HD DVD, Phone, DVD Hardware, Marketing, Standards/Initiatives, Unix, Linux, USA, Marketwire, unused, Inc., , Appliances, Internet Technology, Computer Science, Business, Internet, Other,
---